Henry Cardenas Fine Art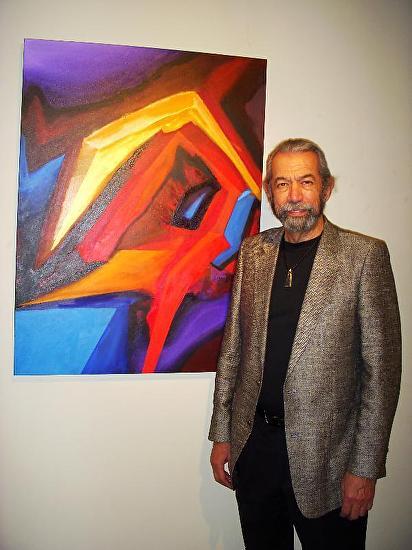 Welcome to my website: www.HenryCardenasArtist.com. I am an Artist who resides in San Antonio, Texas. Please enjoy my art, and reading my Bio, under the category: About the Artist, which explains more about my art. Each day, I create some exciting art and enjoy sharing it with my Art Patrons, Fellow Artists, and Art Friends. Most of the time, I paint abstracts, landscapes, and still lifes in Acrylic and Oils. I also make sculptures of metal, wood, and glass or stone combinations. My work is exhibited in:
--- My owner/partner gallery, Little Studio Gallery, Historic LaVillita, San Antonio, Texas
--- The Adobe Fine Art, Ruidoso, New Mexico, www.theadobefineart.com
---UTSA-Institute of Texan Cultures-Smithsonian Affiliate, San Antonio, Texas
---The Alamo Street Gallery, San Antonio, Texas
---San Antonio Art League and Museum Gift Gallery and Sculpture Garden - Scheduled exhibit November 2015
---And, in my working studio: Cardenas Studio Gallery.
I am one of the twelve artists honored to be showcased in The Texas Contemporary Artists Series at the UTSA- Institute of Texan Cultures-Smithsonian Affiliate (ITC), San Antonio, Texas, beginning in 2009 with solo exhibits. The exhibit series is curated by Arturo Infante Almeida. My art is exhibited at ITC, along with the other eleven artists, MAY through OCTOBER 26, 2014. A large banner is displayed at the entrance to the ITC which shows an image of my abstract painting, "Linear Projections". www.texancultures.com. There is a short video that the ITC posted about me and my art on www.youtube.com, search Henry Cardenas Artist. From June - August 2014, there is a concurrent exhibit of my artworks at The Plaza Club, Frost Bank Tower, honoring all twelve of us artists. On www.google.com, when you search Henry Cardenas Artist, you will locate numerous stories and images about me, my artworks, and exhibits.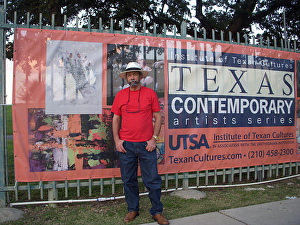 For the month of December 2012, I had a solo exhibit of my art at The Art Center of Corpus Christi, www.artcentercc.org. The Art Center of Corpus Christi and the Art Association of Corpus Christi hosted very nice opening and closing receptions in December. I am honored to have been the Juror for the 45th Annual Silver Cup Show of the Art Association of Corpus Christi and that exhibit was displayed concurrently with my solo exhibit. The painting shown above is titled "Through the Looking Glass" and is the invitation image to my December exhibit at The Art Center of Corpus Christi. Exciting News 2014: The Art Center of CC is publishing a book of the Artists' exhibits.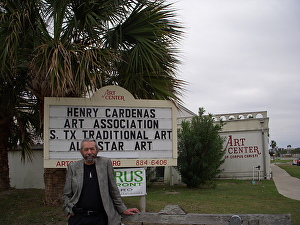 In November 2012, The Art Lovers' Cookbook, San Antonio Edition, was released. I am one of the San Antonio artists invited and selected to be published in the book with an original recipe for Hot Peach-Glazed Shrimp and an image of my art. You can order the cookbook at www.artloverscookbooks.com. There is an interesting article about the cookbook at www.savorsa.com which includes a quote by me from the book.
The prestigious New York magazine, Fine Art Connoisseur, featured me in an article in their January/February, 2013 issue. In November 2013, the magazine featured one of my paintings on their website. In their July 2014 issue, they highlighted my six-month exhibit at the Institute of Texan Cultures with an image of the painting purchased by the University of Texas at San Antonio.
I was also the Featured Artist for July-August 2014 in my own gallery, Little Studio Gallery in Historic La Villita, San Antonio, with additional artworks exhibited. And, I will be the Featured Artist again for December-January 2015 with new and exciting artworks, paintings and sculptures.
You are invited to attend two exhibits in October 2014. The San Anto Cultural Arts Gala on October 4, 2014, in San Antonio. And, the Texas Hill Country Invitational by the Boerne Professional Artists in the Cana Ballroom, 202 Kronkosky, Boerne, TX from October 17-19, 2014. The Gala on Friday, October 17, from 7 to 9 p.m. is free and a great event. I am pleased to be one of the invited artists endorsed as an artist who produces high quality art, and I will exhibit landscapes and abstracts. You are also invited to my November exhibit of my paintings, the reception is on Friday, November 14, from 6 to 10 p.m. at High Wire Art in Historic Tobin Hill. In November and December I will have paintings and sculptures available for gifting, hope to hear from you.
Contact information explains how to reach me and the exceptional galleries that represent my artworks. If you are interested in my doing an exclusive commission painting for you, please contact me. I will be doing website postings with additional images of my art which are available for purchase. And, I hope you can see my art in person at my galleries and museums. I do ship pre-paid art with reasonable prices for shipping and handling, and there is no sales tax requirement when I ship out of the State of Texas. I appreciate the positive comments I have been receiving and enjoy hearing from you. Thanks for visiting.
Henry Cardenas